Portfolio of Work - Internship w/ InsideOut Literary Arts Project
Visual Thinking Strategies Workshop and Performance at the DIA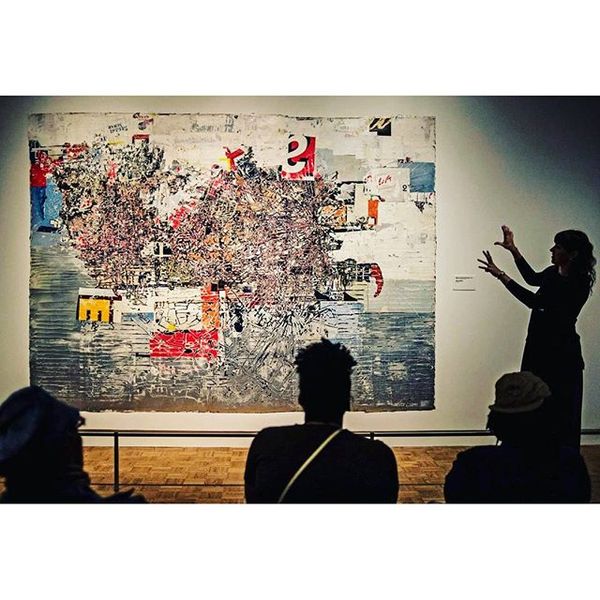 During my internship with
InsideOut Literary Arts Project
, I went through an intensive training program called VTS or 
Visual Thinking Strategies.
This training provided me with important skills that allowed me to facilitate a workshop (pictured on the left) made possible by a partnership between InsideOut and the DIA.
Through this opportunity, I was able to lead a group of teaching artists in the creation of a lesson plan for young writers incorporating the VTS process. This included overseeing scheduling, multiple visits to study our chosen art work in the 30 Americans exhibit, and the collection of all information from our brainstorming sessions. 
The workshop concluded with a guided writing session, followed by an open stage where writers shared their work and received feedback. As a part of this program, I
created a poem to perform in collaboration with another teaching artist 
and presented it

in the Rivera Court of the DIA, and again as a part of Detroit's Noel Night. Here is a link to the lesson plan created for this workshop. I was able to use my experience as a teaching artist and my work as a student of English to choose appropriate language that best represented the ideas of the group, and which best articulated the lessons clearly. 
This image to the right shows the use of yarn to start a discussion around intersections, both geographical and emotional. This was a part of the 30 Americans writing workshop at the DIA. This exercise begins with one person holding a ball of yarn and sharing something about their personal connections to an intersection or crossroad, as well as an emotional based connection -  a cultural reference. The yarn is tossed to another person, who also shares something about themselves. At the end of this experience, the yarn has created a multitude of crossings and has become a reflective map of the cultural and geographical intersections of all the participants. I thought that this exercise would be a great ice-breaker and allow the participants to get to know each other a bit and create a visual model for us all to examine.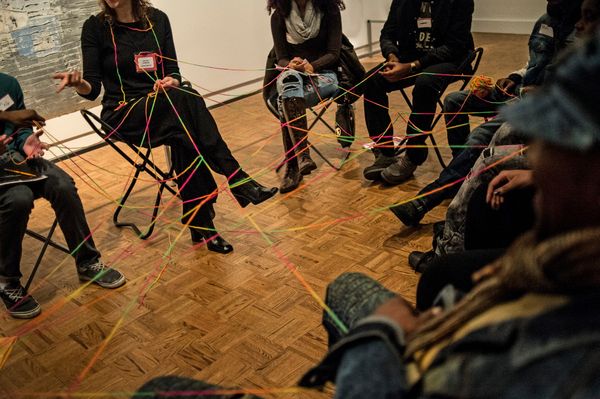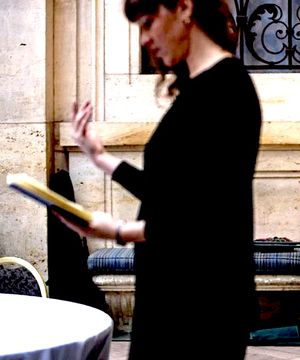 As a part of the VTS workshop and the partnership between the DIA and InsideOut, I was asked to write a poem to share at the closing celebration of this effort. I took inspiration from the art we used in the workshop (pictured at the top of this page) and the poems that were used to spur a conversation around identity and our connections to the world around us. The poem I created is called "
On The Surface
" and is linked here. The image to the left was taken in the Rivera Court at the DIA as I prepared to deliver my work to a crowd of writers, students, educators, and InsideOut supporters. This process allow me to explore my personal writing and presented a wonderful opportunity to become an investigator in my own story. After developing a plan to help others create writings, this was my chance to get deep into my story and my cultural and geographical intersections. 
10 Week Songwriting Residency at Garvey Academy